Wisdom Teeth Removal at Artarmon Dentists
The team at Artarmon Dentists has the experience and expertise to provide you with comfortable, state-of-the-art care. Our many solutions ensure that we can address the needs of every member of your family. If you or your teenager has concerns with your wisdom teeth, we can evaluate them and perform an extraction if we feel that it is necessary.
Why Extract Wisdom Teeth?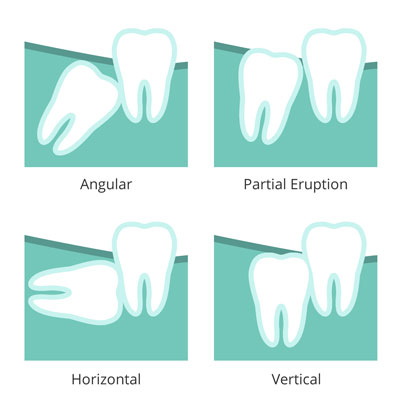 Your wisdom teeth erupt around your teenage years or when you're in your 20s. They're the final set of molars that appear in the back of your mouth. If you don't have the proper space or an infection is likely to result, wisdom teeth can be removed to avoid complications. If left untreated, you may damage neighbouring teeth or experience pain.
The many reasons that may necessitate a wisdom teeth extraction include:
Predisposition to gum disease and tooth decay
Impacted teeth
Partial eruptions
Crowded teeth
Wisdom teeth have a high risk of infection. As such, the infection can spread to the healthy surrounding teeth. If we think that your wisdom teeth may cause you difficulties, we'll recommend that you have them extracted.
Your Sedation Options
Our aim is to make sure you're comfortable during any procedure we perform. Wisdom teeth extractions are no exception. We'll numb the extraction site to begin with. You can also choose to have oral sedation or inhalation sedation. If you want oral sedation, be sure that you have someone to drive you home following your appointment. We also have laughing gas so that your anxieties are eased while leaving you fully conscious.
We'll detail all of our sedation services to you before your procedure begins so that you can decide how you would like to proceed. Our patients love that we give them options and make sure that any apprehension they feel is eased!
Emergencies Are Welcome
Are you in pain? Whether it's from your wisdom teeth or you have another oral health concern, we're here for you. Our flexible opening hours include late appointments and Saturday visits. We'll get you out of pain as quickly as possible, then address the cause of your problem. If further treatment is needed after your emergency appointment, we'll make a future booking for you.
Book Your Appointment Today
Don't wait to give your oral health the attention it deserves. Contact us today to discuss treatment for wisdom teeth Artarmon or to schedule your first consultation with us! We accept insurances and have payment plan options available.
CONTACT US
* Any surgical or invasive procedure carries risks. Before proceeding, you should seek a second opinion from an appropriately qualified health practitioner.

Wisdom Teeth Removal Artarmon, Willoughby, Chatswood, Lane Cove, St Leonards NSW | (02) 9412 4232