Same-Day Crowns Artarmon
At Artarmon Dentists, our experienced team provides a broad array of options to address your dental needs. Over time, your teeth may become damaged from a variety of reasons. A trauma or accident is common. You may also experience a wearing down of your teeth over time due to ageing. If your oral health could use a boost, we have the solutions that are right for you.
Two options that our patients often use to restore their oral health are crowns and bridges. These restorative dentistry services can either strengthen a weakened tooth or replace missing teeth.
Crowns to Address Damaged Teeth
A crown is a tooth-shaped cap that is placed over an existing tooth that has a compromised structure or aesthetic defect. They restore the strength and function of your tooth. When you have a crown fitted over a compromised tooth, you won't have to worry about it breaking down any further. It will have great stability.
You can enjoy all the foods you want without any concern when you restore your tooth with a crown. You won't have to worry about anyone noticing the crown, either. It will be colour-matched to the rest of your teeth so that it blends in perfectly.
Dental Bridges to Fill a Gap
Just like the name indicates, a bridge spans the gap between teeth where other teeth have gone missing. They're secured to the teeth that neighbour the gap. A bridge can be used to replace one missing tooth or a few in a row.
There are different materials available to create your bridge that will give varying results. You can choose to match your bridge to your natural teeth so that it fits in seamlessly with your smile. We'll walk you through each option and what your results will be. Some bridges can be created with our CEREC machine, giving you the option of having it made on the day.
3D X-rays Available On-Site
Artarmon Dentists is proud to be a leader in technology. Some of the latest advancements in dentistry are about the making of dental crowns and are available at our clinic. 3D X-rays allow us to make the process quicker, precise and more comfortable for you. We will be able to see clear, detailed, three dimensional images of your teeth, as well as the bones and soft tissues that surround them.
Normally, you'd have to have moulds taken of your tooth that are sent to a laboratory to make your crown. The process would usually take a couple of weeks. With our technology, we'll take a 3D digital scan of the tooth, then have it milled and printed in our CEREC machine. The process takes just minutes and can be done on the day of your visit.
Have you heard of a CEREC machine? It's a versatile piece of equipment that can make your dental visits simplified and efficient. The CEREC machine uses our 3D scans to create your dental restoration such as a crown or bridge Artarmon. Once it has your information, it can fabricate the crown or bridge to exact specifications, removing the margin for error and ensuring a perfect fit.
At most dental offices, you'll receive a temporary crown on your first visit and have to return later for a follow-up when you get your permanent crown. With the CEREC machine, the entire process is done in a single day. No return visit is necessary, making it more convenient for you.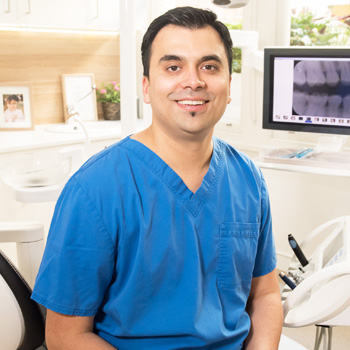 Meet Our Dentist, Dr Nick Mehta
Dr Nick Mehta graduated with his dental qualification in 2004. Since that time, he has dedicated himself to constantly learning and growing. It's his goal to ensure that his patients receive the best possible care, always given with a high degree of customer service. With the latest technology, we want to provide you with an efficient experience that exceeds your expectations.
Frequently Asked Questions
How long do crowns and bridges last?
The average length is between 7-15 years. If you keep up on your home hygiene habits and come in for regular checkups, they'll likely last for longer. We'll advise you on exactly what you can do so that they last for as long as possible.
CEREC technology combines the advantages of a 3D scanner, a computer and a specialised manufacturing machine. All crowns and some bridges can be made with a CEREC machine. We'll first create a model of your tooth with our 3D scanner. The milling machine produces a precise model. It's more convenient and cost-effective than the previous methods in making a crown or bridge. Plus, you save time without having to return for a follow-up visit. You won't wear a temporary crown or bridge, either – you'll get the real thing on the day.
How long will it take to get a crown or bridge?
All crowns and some bridges can be completed in one appointment. In some cases, there can be more complex work required. If so, we may need to see you again. We'll let you know what to expect at your consultation.
How do I know if I need a crown?
There are a few different situations in which a crown may be the most appropriate solution. For example, if you have an aesthetic defect that can't be addressed with other services, we may recommend a crown. We'll also place one on a tooth that has had a root canal to give greater stability to the compromised teeth. They're also appropriate for decayed or broken teeth. If your tooth structure has broken down for any reason, a crown may be the perfect way to restore your oral health.
How do I know if I need a bridge?
A dental bridge is for people who are missing teeth. It is a cost-effective replacement, often chosen by people instead of options such as a partial denture. You can have a bridge if you're missing one tooth or multiple teeth in a row. We'll discuss all possible solutions with you at your initial consultation with us so that you can decide what you'd like to do.
Give Us a Call Today
Are you ready to improve your oral health? Contact our team now to schedule your consultation for crowns and bridges Artarmon! If you do not have dental cover, we'll be happy to arrange a payment plan with you.
CONTACT US
* Any surgical or invasive procedure carries risks. Before proceeding, you should seek a second opinion from an appropriately qualified health practitioner.

Dental Crowns and Bridges Artarmon, Willoughby, Chatswood, Lane Cove,
St Leonards NSW| (02) 9412 4232