General Dentistry at Artarmon Dentists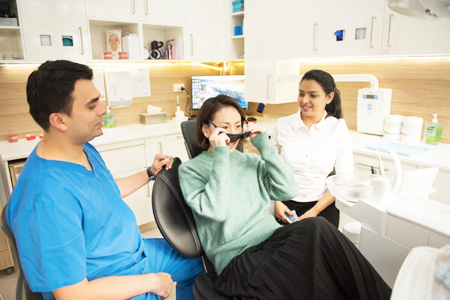 Keeping our patients' smiles in tip-top shape is our passion! We feature a broad array of general dentistry services that can help you and your family achieve and maintain optimal oral health.
We advocate a preventative approach to oral health. That's because identifying and treating dental and oral health issues when they're minor can save time and money in the long run.
We have a wide range of general dental procedures:
Frequently Asked Questions
What's the difference between general dentistry and cosmetic dentistry?
Both traditional and cosmetic dentistry are essential for achieving a healthy smile. Although cosmetic dentistry tends to focus on the aesthetic improvement of your smile, general dentistry is more holistic and arguably more important. General Dentistry looks at the health of the gums, the mouth, the teeth themselves, and has a variety of services intended to fix and prevent issues from arising.
What are some types of general dentistry?
Regular checkups let us detect and prevent issues before they become significant. We evaluate gum health and then if necessary fillings can be done. Root canals follow fillings that fail and implants are a solution when even a root canal can't save a tooth. Finally, dentures and other prosthetics help restore function.
How often should I come in for a checkup?
We recommend that patients come in every six months for a checkup. Doing so can help you maintain your healthy smile.
Book an Appointment
Contact our Artarmon practice today to schedule an appointment for your general dentistry needs!
CONTACT US
* Any surgical or invasive procedure carries risks. Before proceeding, you should seek a second opinion from an appropriately qualified health practitioner.

General Dentistry at Artarmon Dentists NSW | (02) 9412 4232