Children's Orthodontics Artarmon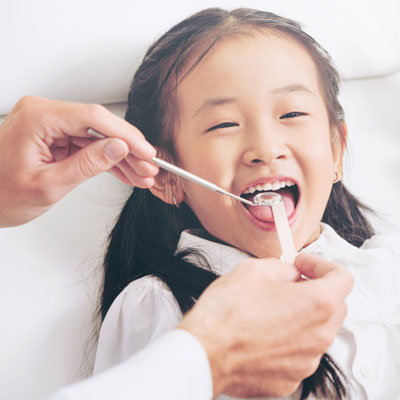 Did you know that approximately 80% of kids in Australia have crooked teeth? This statistic proves that the poor development of craniofacial structures affects many children. If you're wondering whether your child has the patterns that indicate they'll have straight teeth, the indicators are as follows:
A tongue that rests on the roof of the mouth
Breathing through the nose only, not the mouth
Lips that meet when at rest
No moving of the lips or cheeks during a subconscious swallow
The Key to Early Detection
The development of your child's craniofacial structures can be treated during their early years. When we improve this development, it can ensure the proper jaw size, tooth position, airway and jaw relationship. At Artarmon Dentists, we offer three separate solutions: Myobrace therapy, early intervention orthodontics and non-extraction orthodontics.
We recommend that your child begin to see us for their regular checkups from around when their first teeth erupt. You can bring them to your own visits or those of a sibling's so that they can become accustomed to our environment and get to know our team. When they reach about six years of age, we'll look for the signs that they can benefit from a form of early intervention orthodontics.
Myobrace Therapy
A Myobrace is a functional device that will retrain the muscles in your child's lips or tongue. They wear it for an hour during the day and at night when they're sleeping. Along with the Myobrace, we will recommend specific exercises that retrain the muscles in the lips and tongue. Ultimately, it's these muscles that are responsible for the position of their teeth.
We also offer a Breathing Retraining Programme since breathing affects the child's jaw development. By addressing several aspects of their craniofacial development early in life, we can affect the way their teeth are forming. We want every child to have the potential to enjoy a straight smile.
Early Intervention Orthodontics
When most people think of braces, they imagine teenagers wearing them. In more recent years, dentists have increasingly realised that kids don't have to wait for years to start with treatment for crooked teeth. Their peak developmental stage is between 7-12 years of age.
Interceptive orthodontics, also known as early orthodontics, works with them during this earlier age. With these solutions, we can influence their jaw growth and airway development. The jaw and airway will have a better chance at having optimum position so that their teeth can grow in as they should.
Non-Extraction Orthodontics
If you or your child need orthodontics, you may be concerned about having teeth extracted before embarking upon treatment. You'll be glad to hear that we believe in taking the more conservative approach to orthodontics. We want you or your child's quality of life to remain high even while having treatment. In many cases, we can avoid having to extract your teeth to create the space needed to align your smile. Some research shows that extracting teeth for orthodontic treatment can actually cause more harm long term.
Our team believes in treating orthodontics without tooth extraction where possible.
Meet Dentist Dr Radhika Bhatla
BDS (ADC SYD) PGDip (Digital Orthodontics)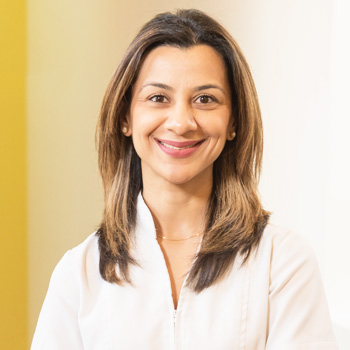 It's our pleasure to offer a broad range of services that suit your family's needs. When it comes to children's dentistry, we love seeing kids of all ages. Dr Radhika Bhatla enjoys combining her passions of dentistry for our youngest patients and orthodontics. As a parent, she understands the importance of making sure your children have healthy, gorgeous teeth.
Dr Radhika Bhatla has a special interest in orthodontics and has completed extensive training in the orthodontic field. She recently completed a postgraduate diploma in digital orthodontics, further boosting her skills and knowledge to benefit our patients.
The Signs of Needing Early Intervention Orthodontics
You might be wondering what to look for in your child to determine if they may require orthodontic treatment. We'll screen them from when they're about 6-7 years of age, which is when the first signs begin to show themselves. Their jaw growth and several other factors will be monitored as they get older.
As a parent, there are certain symptoms to keep an eye out for, such as bed-wetting and hyperactivity. These may be indications that your child will benefit from early intervention orthodontics. If you notice them, be sure to let us know so that we can evaluate them.
Book Your Child's Appointment Today
You want your child to grow up showing off a beautiful smile and having great self-confidence. You can help them get there with children's orthodontics Artarmon. Contact our team today to schedule a checkup!
CONTACT US
* Any surgical or invasive procedure carries risks. Before proceeding, you should seek a second opinion from an appropriately qualified health practitioner.

Children's Orthodontics Artarmon, Willoughby, Chatswood, Lane Cove,
St Leonards NSW | (02) 9412 4232