Custom Mouthguards at Artarmon Dentists
Chipped, broken teeth and lip lacerations are some of the most common sport-related injuries. If you or one of your children are active in sport, you can protect your smile with a mouthguard that is custom-fitted. At Artarmon Dentists, we provide this quick solution in just minutes.
The Many Types of Mouthguards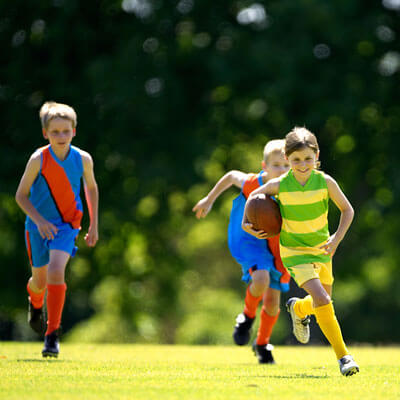 There are several mouthguards that are available on the market today. Some, you've probably seen at sporting goods stores or supermarkets. A custom-made mouthguard, however, has a superior fit than the others. It fits you like a glove, which gives a better measure of protection for your teeth and mouth.
Individualised mouthguards offer several benefits:
Improved comfort while wearing
Increased protection during your activities
The ability to speak or drink water without removing them
A secure, perfect fit for the length of your activity
Frequently Asked Questions
Is it painful to be fitted for a mouthguard?
No. It takes just a few minutes. The process involves taking impressions of your teeth. From these impressions, we can create your mouthguard.
Is my mouthguard unique to me?
Yes. That's why a "one-size-fits-all" mouthguard won't cut it. For the maximum protection, you need a custom mouthguard. The mouthguard will be precisely fitted to your bite and teeth.
Yes. We strive to ensure that care at our practice is affordable for everyone. You may have insurance benefits for dental services including mouthguards.
Will my child outgrow their mouthguard?
As the years go by and your child grows, they will require a new mouthguard. When we see them for their regular checkups, they can bring their mouthguard in. We'll check the fit of it to be sure it still provides the coverage and protection they need. If not, we can fit them for a new mouthguard.
Can I buy a mouthguard kit at the chemist?
Though they are readily available, we do not recommend these "bite-and-boil" kits that you can buy in many shops. When you fit yourself for a mouthguard, you don't have the assistance of a professional to be certain that it's done properly. Furthermore, the fit won't be as snug, which means you don't have the protection that you need to prevent an injury.
Schedule Your Consultation With Us
Our friendly team is standing by to assist you in making your booking for mouthguards Artarmon. Contact us today! You can call us or schedule your appointment online.
CONTACT US
* Any surgical or invasive procedure carries risks. Before proceeding, you should seek a second opinion from an appropriately qualified health practitioner.

Custom Mouthguards Artarmon, Willoughby, Chatswood, Lane Cove, St Leonards NSW| (02) 9412 4232