Preventative Dental Care at Artarmon Dentists
At Artarmon Dentists, we believe in taking a preventative approach to enjoying healthy teeth and gums. If you want to show off a beautiful smile for life, an ounce of prevention is truly worth a pound of cure. In our treatment plans, we communicate the idea that most dental conditions are preventable.
Your Examination and Cleaning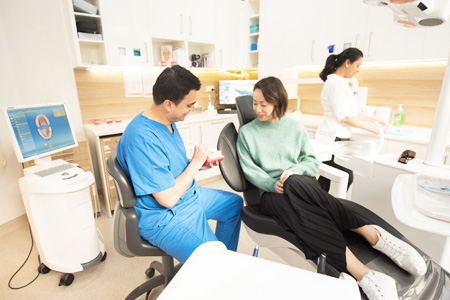 The first step of enjoying great oral health is to have regular checkup and examinations. We encourage our patients to have these appointments every six months. In doing so, we can be sure to identify any issues present before they can become more serious and expensive to address or will plague you for years to come. We may recommend that you have diagnostic X-rays depending on your case.
At each examination appointment, you can also book in for a hygiene scale and clean. This process involves the removal of plaque and tartar buildup from your teeth. Then, we apply a cleaning agent to each tooth, and polish your teeth. You'll leave feeling like your smile is sparkling and luminous.
Prevention As Cure
Each of our dentists performs a comprehensive examination that looks at every tooth and all of your gum tissue. We'll take a look at your bite and jaw muscles and take X-rays or scans as needed. This thorough approach allows us to evaluate any possible problems as soon as they arise.
In many cases, you can avoid needing further dental treatment by giving your oral health the care and attention it needs. That's why we emphasise preventative dentistry as the cure for many dental conditions.
Frequently Asked Questions
How long will the appointment take?
Our dentists like to spend extra time with each patient to make sure they understand which areas could use improvement and answer all your questions. Along with your examination, we can usually allow time for a professional cleaning as well. Each appointment takes about 30 minutes to an hour.
Do you clean my teeth at my examination?
For new patients, we usually like to combine an appointment for a cleaning and examination. Having regular cleanings is important to maintaining your oral health. At your checkup, we'll recommend it if we think you can benefit from it.
We love seeing children at our clinic! We're great at explaining things to them and guiding them through their appointment. With modern techniques and a few tricks, we can make sure that dentistry is enjoyable, fun and virtually painless for kids. If, as a parent, you feel anxious about dental care, please try to avoid letting your child see it, as dentistry has had dramatic changes in recent years.
For more information, you can visit our children's dentistry page.
Your teeth are the hardest structure in your body. They crush food, eat and drink acids and get scrubbed with abrasive toothpastes and brushes. It's incredible that they're so hardy! Dental conditions arise slowly over time. A few factors that damage your teeth include poor diet, acids and bacteria. With regular checkups and X-rays, we can make sure these factors aren't affecting your oral health.
Our preventative techniques include the removal of plaque and tartar, applying fissure sealants and providing fluoride treatment to strengthen teeth. These procedures involve no pain and can prevent or delay your need for more involved dental procedures.
Book Your Appointment Today
Contact our team today to book your visit for preventative care Artarmon! We accept all insurance.
* Any surgical or invasive procedure carries risks. Before proceeding, you should seek a second opinion from an appropriately qualified health practitioner.

Preventive Dental Care Artarmon, Willoughby, Chatswood, Lane Cove, St Leonards NSW | (02) 9412 4232