Orthodontics Artarmon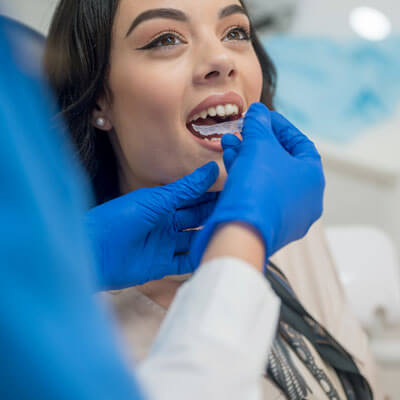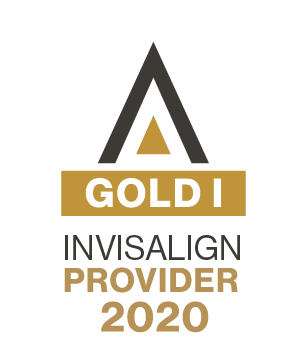 The team at Artarmon Dentists has the training and skills to provide your entire family with quality care. We welcome all ages, from children to adults. By putting our patients first, we've created a positive reputation in our community. We would love to have you join our patients and get the care you need from our warm, friendly team.
If you require orthodontic services, we provide a full suite of options. Kids, teens and adults alike can require help in straightening out their smile. Our solutions include Invisalign®, ClearCorrect, traditional braces, ceramic braces, early intervention orthodontics and Myobrace therapy.
Invisalign for Straighter Smiles
Since 2012, Dentist Dr Radhika Bhatla has been a provider for Invisalign. These clear aligners are nearly invisible. They fit snugly over your teeth, allowing you to have orthodontic treatment while not cramping your social life. Nobody has to know you're wearing them. You can remove them to eat, drink and brush your teeth, which promotes your overall oral health.
You'll switch to a new set of aligners in your series about every two weeks. With each switch, your teeth will be slowly shifting into the desired position. We'll see you for regular progress checks to ensure that the correct changes are taking place.
The ClearCorrect Difference
ClearCorrect has been in business since 2006. Over the years, they've provided clear aligners for millions of happy customers. Their strong aligners won't crack or stain. They're comfortable to wear, involving no wires or brackets. You can remove them to eat or brush and floss your teeth.
With ClearCorrect, you can show off your smile without anyone noticing that you're wearing your aligners. The ClearCorrect organisation is dedicated to constantly improving what they do based off doctor and patient feedback.
Our Certified Invisalign and ClearCorrect Provider
Dentist Dr Radhika Bhatla has undergone significant training to keep her skills sharp over her years in practice. She is certified in providing Invisalign and ClearCorrect orthodontic systems. If you're unsure as to which is right for you, a consultation with Dr Radhika Bhatla will allow her to make the best recommendations for your particular situation. Read more >>
Tried-and-True Traditional Braces
There's a reason that metal braces have been used for decades. They show great success in correcting moderate to severe issues with bite alignment and crooked teeth. The average treatment times are about one to two years in total. With traditional braces, we can predict accurate outcomes so that you know exactly what you can expect from your treatment.
Ceramic Braces Available
If you want to straighten your teeth but don't want to have metal braces, we still have options for you. Ceramic braces match the color of your teeth. They'll blend right in and won't be noticeable like metal braces are. Your braces can be seen if someone is close up but otherwise blend in well with your teeth. They move your teeth effectively just like traditional braces do while being less visible than the traditional braces would be.
Early Intervention Orthodontics
Are you concerned about your child's teeth? As they develop, you may be worried that they'll require braces. There's no need to wait until all of their milk teeth have been lost to embark on a form of orthodontic treatment. We offer early intervention orthodontics, which can be used from about age 6-7.
The signs that your child may benefit from early intervention orthodontics include
Bed-wetting
Behavioural issues
Chronic allergies
Crooked teeth
Difficulties concentrating and poor school grades
Ear infections
Hearing difficulties
Heavy mouth breathing
Reflux
Regular illnesses
Sleeping restlessly
Small or narrow jaws
Snoring
Swallowing difficulties
Teeth grinding
Thumb sucking
If you have noticed any of the above in your child, we advise you to book in for a consultation with Dr Radhika Bhatla. We'll discuss their symptoms with you and whether we think that early intervention orthodontics are right for them.
Myobrace Therapy
The Myobrace is a device that retrains your child's lip and tongue muscles to work as they should. It's worn for just an hour during the day and at night while they sleep. Crooked teeth, underbites and overbites can all be addressed with the Myobrace. It looks to the underlying cause of crooked teeth or a misaligned bite, correcting it at the source. The Myobrace will hold their tongue and lips in the correct position and breathe properly. In turn, their jaw will be manipulated to develop in the right way.
If we think that your child can benefit from wearing a Myobrace, we'll discuss it with you after their initial consultation.
Non-Extraction Orthodontics
At Artarmon Dentists, our dentists take a conservative approach to care. that means we'll never recommend any treatment that is unnecessary and avoid tooth extraction where possible. That includes when you embark on orthodontic treatment. Many dentists recommend the extraction of teeth before you get orthodontics. There are, however, issues that can be caused further down the track such as bleeding and incorrect movement.
Whenever possible, we will avoid extracting a tooth. We'll fully evaluate you and give you our best recommendations for treatment with our holistic approach.
3D X-rays On-Site
When it comes to dental care, you want efficiency and results. We strive to get you the outcomes you wish for in a timely manner. To do so, we've compiled the latest and most advanced technology in the dental industry. That includes 3D X-rays, which give us a full view of your teeth and jaws. With these images, we can determine how best to address your orthodontic needs.
Health Funds Accepted and Payment Plans Available
We want to make it easy for you to get the dental care you need. We're pleased to work with Afterpay, which allows you to pay for your dental treatment in installments with no interest. We also accept a variety of health funds.
Join Our Dental Practice
When you choose us for your dental care, you'll be treated like a member of our family. Contact us today to schedule your appointment for orthodontics Artarmon! There are plenty of two-hour car parks around the building, or you can easily reach us by bus or train.
CONTACT US
* Any surgical or invasive procedure carries risks. Before proceeding, you should seek a second opinion from an appropriately qualified health practitioner.

Orthodontics Artarmon, Willoughby, Chatswood, Lane Cove, St Leonards NSW | (02) 9412 4232