Dental Implants Artarmon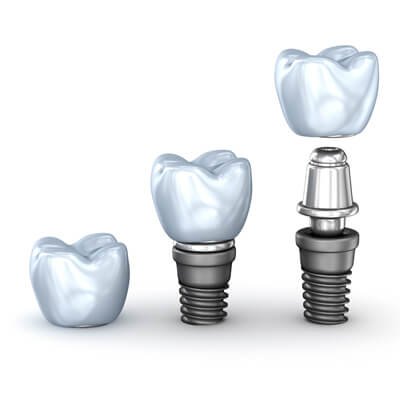 Are you missing teeth? You may be embarrassed about showing off your smile and have low self-confidence. It isn't just about aesthetics, however. The other teeth in your mouth don't have the support they need when a tooth is missing. They can drift out of place, resulting in crooked teeth or even tooth loss. Your bite is affected, too, which can mean that you have a sore jaw joint and pain in the surrounding muscles.
At Artarmon Dentists, our dental team provides you with a full suite of services to cover your every need. If you're interested in replacing a missing tooth, you may want to learn more about dental implants. This state-of-the-art solution isn't like any other tooth replacement solution available on the market today.
The Latest News in Replacing Teeth
With a dental implant, you can restore your missing teeth and love showing off your smile again. Dental implants are the latest technique in the tooth replacement field, providing a solution that appears and functions just like a normal tooth. The many benefits of dental implants include:
They integrate with the bone for a long-lasting result
Have a high success rate
Can replace one tooth, several teeth or all teeth
Don't affect the health of any remaining teeth
Helps retain your facial profile
Have multiple studies supporting their efficacy
What is a Dental Implant?
The dental implant itself is a titanium post. It is inserted into your jawbone during a surgical procedure by a qualified dental professional. Your jawbone will begin to grow around the implant, accepting it like the normal root of a tooth would be. When this integration occurs, you can place a dental restoration on top of it. A crown, bridge or denture is affixed to the implant to complete the entire process.
World Leading Straumann Dental Implants
When you choose to have dental implants with us, you can feel comfortable knowing we use Straumann dental implants who are the world-leading in dental implant technology.
The Two-Step Procedure for Dental Implants
The entire procedure will take place in two separate phases. First, we have to determine that you're a candidate for dental implants. Once we do so, we can move forward with stage one. During this phase, you'll have the dental implant placed in your jaw. The second stage can begin after the surgical site has healed. It involves having a crown, bridge or denture placed on top of your implant.

Dentist Dr Nick Mehta has always had a special interest in the latest technology. To continue providing the best care to his patients, he has completed a postgraduate diploma in implant surgery at Loma Linda University. With this qualification, he can perform your implant surgery safely and efficiently. With a fascination for advanced developments in dentistry, he began using a 3D CAD/CAM for single-visit implants for the last decade. We'll use the latest equipment and techniques to ensure that your appointments with us are kept simple for you!
Our goal is to ensure that the process for getting your dental implant is kept seamless for you. Each member of our team works to make sure that your visits go smoothly and are easy to complete. During your first visit, you'll have a consultation with our dentist. They'll discuss whether you're a candidate for dental implants. If so, we can move forward with the implant placement.
During the implant placement, you'll be under anaesthesia while a titanium implant is placed in your jaw bone. We want you to rest comfortably and minimise any discomfort you're in. After the procedure is completed, you'll be given instructions on resting up so that you experience the best recovery. We'll have follow-ups to check on your healing process. When you've completely healed, you'll have a crown, bridge or denture attached to the implant.
If you are wondering whether you're a candidate for dental implants, we can give you some general guidelines. The best bet is to book in for a consultation with our team, who can fully evaluate you. Typically, however, there are a few people who may not be candidates right away. For example, if your jawbone has worn down over time, there may not be enough bone material to hold the dental implant. In such a case, you may require a bone graft before you can move forward with the implant procedure.
Frequently Asked Questions
Does it hurt to have dental implants?
The implant procedure at Artarmon Dentists is done under local anaesthesia. Our dentists follow a philosophy of minimising your pain and focusing on your comfort at all times. When your anaesthesia has worn off, you may experience slight discomfort. It can be easily addressed with pain medication. We'll advise you on exactly what to do post-procedure.
How do you care for a dental implant?
One of the greatest advantages of having a dental implant is treating it just as you would a natural tooth. You need to brush and floss your dental implant just as if the implant were a regular tooth. If not, you may have dental problems such as gum disease that can develop. You should attend your checkups every six months with us so that we can check on them and teach you how to properly care for your implant.
How long will it take to get the implant?
The procedure to place your implant typically takes less than an hour. We'll have a couple of follow-up appointments to check on how your implant is integrating with your jawbone. When the area has healed, we can place your crown, bridge or denture on the implant. In total, the process generally takes about 3-6 months. We'll advise you on the timeline that is appropriate for your case when you have your initial consultation with us.
How do I know if I need a crown, bridge or denture placed on my implant?
Whether you have a crown, bridge or denture affixed to your implant will depend on how many teeth you need to replace. If you have a crown, you'll replace just one missing tooth. A bridge can replace multiple teeth to fill the gaps in your smile. A denture is appropriate for people who need to replace nearly all or all of their teeth.
How long does a dental implant last?
One of the greatest advantages of dental implants is that it's one of the longest-lasting restorations available. Since it integrates into your jawbone, an implant operates just like a real tooth. If properly cared for, it can last for your lifetime!
What are the contraindications to getting a dental implant?
If you have preexisting conditions such as decay or early signs of gum disease, we must first address these before embarking on the dental implant process. Certain medical conditions may mean that a person is not a suitable candidate for dental implants. Smokers have a higher risk of infection and poor healing, which is why we encourage you to quit smoking before getting a dental implant.
How much does a dental implant cost?
The cost of your implant will vary depending on how many you need and whether you have a crown, bridge or denture affixed to it. It's a wise investment when you consider how long it will last. All costs will be detailed at your consultation and we also offer flexible, interest-free payment options.
Schedule Your Appointment Today
Are you interested in replacing your teeth? Learn whether you're a candidate for dental implants Artarmon. Contact our friendly team today to book your time with us! We have plenty of free parking on-site. You won't have to worry about long waits, either – our dentist will see you promptly at the scheduled time.
CONTACT US
* Any surgical or invasive procedure carries risks. Before proceeding, you should seek a second opinion from an appropriately qualified health practitioner.

Dental Implants Artarmon, Willoughby, Chatswood, Lane Cove, St Leonards NSW | (02) 9412 4232