Invisalign® Artarmon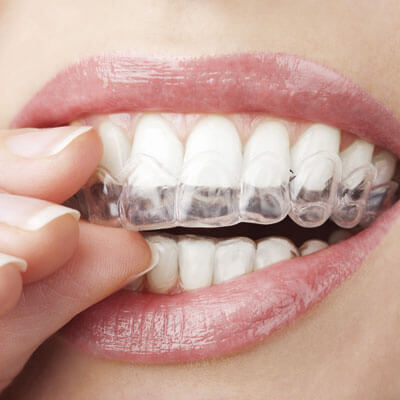 Our team is pleased to provide a full suite of dental services. No matter your age or current level of health, we're happy that you've chosen us for your dental care. We welcome all members of your family to our modern, warm practice. At your initial appointment, we'll discuss any concerns you have. We'll also let you know what our findings from your examination are in case you require further treatment.
The Need for Orthodontics
Some people are born with teeth that erupt crookedly. Though many cases are slight, some are more severe and play an important role in your oral health and psychological wellbeing. At Artarmon Dentists, our team understands the significance of teeth and how they affect your self-confidence. In addition to regular braces, we provide Invisalign®. The aligners involved in Invisalign are created from a virtually invisible, smooth and comfortable plastic material. Every two weeks, you'll switch out your aligners to the next in the series. Each will gradually shift your teeth in the direction they need to move. Since they're removable, you can easily clean each aligner and your teeth and gums. You won't have to worry about not being able to brush or floss, which reduces the risk of issues once treatment is completed.
Our Invisalign Expert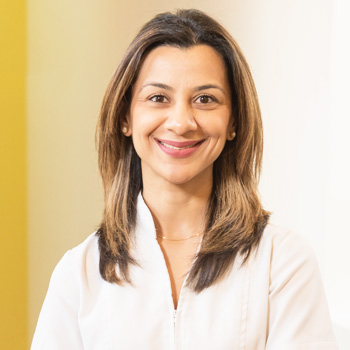 Since 2012, Dentist Dr Radhika Bhatla has been a provider for Invisalign at our practice. She has completed further education and training in orthodontics through highly acclaimed Dr Mahony. Dr Radhika Bhatla is currently completing her Post Grad Certificate in Digital Orthodontics. Dr Radhika Bhatla thoroughly enjoys treating patients with Invisalign clear aligners. Read more >>
The Many Advantages of Invisalign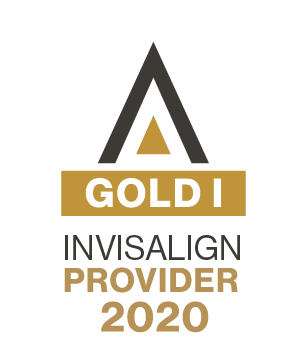 You might be wondering why millions of people have chosen Invisalign for their orthodontic treatment. There are a number of benefits, such as
Virtually invisible – Keep your lifestyle and confidence while you complete the treatment. It's a clear alternative to traditional braces!
Comfortable – No brackets or wires are involved that irritate your gums or the inside of your mouth.
Better hygiene – Since you can take out your aligners to clean your teeth, you'll keep your good oral health.
Fewer checkups – Typically, Invisalign requires fewer dental visits than other types of braces. A before-and-after picture – You can look at each stage of the treatment process from start to finish before proceeding.
3D X-rays Simplify Your Visits
Before you start any orthodontic treatment, it's important to have a full overview of the structure of your mouth and jaws. Regular X-rays give only a two-dimensional image. With our advanced 3D X-rays, we can see a complete picture of your oral health. After taking them, we can understand your precise needs and make the recommendations that are most appropriate for your individual case.
Our Payment Plan Options
We believe that quality care should be accessible to everyone. To get the dental care you need, you can use your health fund cover with us. If you don't have dental cover, you can make a flexible payment arrangement with Afterpay. We work with this company so that our patients have access to installment plans that don't involve any interest.
Frequently Asked Questions
Invisalign is an orthodontic system with an innovative approach. Using SmartForce technology, custom-made aligners are created just for you. As they are completely removable and clear, most people will have no idea that you're wearing them as you progress through treatment. Only dentists trained in Invisalign are qualified to provide this type of orthodontic care.
Once you have been evaluated and decided to embark upon treatment with Invisalign, your dentist will take X-rays, photos and scans of your teeth. Your records are used to create your 3D ClinCheck treatment plan. This system is then used to design your aligners. You'll also be able to see the final position of your teeth. After your aligners are made, they'll be shipped to us and you can pick them up. You'll wear each set for about two weeks until treatment is completed.
How many hours a day do I have to wear my aligners?
With Invisalign, you must wear your aligners for a certain number of hours per day for the treatment to work as it should. You should have your aligners in for 22 hours a day. That means you can remove them for social events, at mealtimes or to brush and floss.
We'll be able to give you a full picture of the costs once we have assessed your requirements for treatment. Typically, the cost starts around $3000 and will depend on how many aligners you'll need. When you look at the costs and benefits, Invisalign might be a better orthodontic solution to you.
Are payment plans available for Invisalign?
Yes! Many of our patients enjoy separating payments out over a certain time frame. If you are interested in an installment plan, we'll be happy to discuss the possibilities with you.
What type of oral health issues can be addressed by using Invisalign?
Invisalign can correct numerous problems. These include crowded or crooked teeth as well as overbite, underbite and crossbites.
How long will Invisalign treatment take?
Your case will be completely unique. In the typical situations, Invisalign is worn for one to two years, sometimes much less for simple cases. We can give you a more complete estimate at your initial consultation.
How often will I have to come in for my checkups?
We'll see you about every 6-12 weeks to check your progress. The frequency of these checkups will depend on your case. It's important that we keep an eye on the movements of your teeth so that we know your treatment is on the right track.
Am I a candidate for Invisalign?
You cannot determine whether you're a candidate without seeing a certified Invisalign provider. At your initial consultation with Dr Radhika, she will evaluate your teeth and jaw. Then, we can tell you whether your case is suitable for treatment with Invisalign.
Is Invisalign appropriate for kids?
Invisalign offers a teenage version of their treatment. With Invisalign for teens, you can monitor how many hours in a day they wear their aligners so that you know they're adhering to recommendations.
Get Started Today
Learn about Invisalign Artarmon and whether it's right for you. Contact us today to schedule your consultation with Dr Radhika Bhatla!
* Any surgical or invasive procedure carries risks. Before proceeding, you should seek a second opinion from an appropriately qualified health practitioner.

Invisalign Artarmon, Willoughby, Chatswood, Lane Cove, St Leonards NSW | (02) 9412 4232