Teeth Whitening Artarmon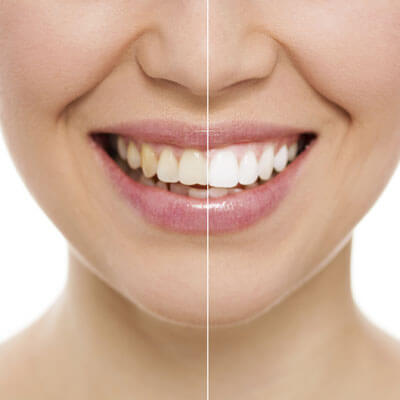 At Artarmon Dentists, our team provides a full range of services to meet your needs. In addition to general dentistry and restorative dentistry, we also offer cosmetic dentistry.
Cosmetic dentistry is a field that concentrates on altering the way your teeth look. If you feel unhappy with the appearance of your smile, we have solutions for you to choose from. We'll meet with you to discuss your goals, then let you know what your options are. Together, we'll create the treatment plan that's right for you.
If you dislike the colour of your teeth, Artarmon Dentists provides you with professional-grade teeth whitening. In our clinic, you'll be monitored the whole time for your safety. You'll find that our whitening is highly effective, much more so than the kits you can purchase at the chemist.
Your Two-Step Teeth Whitening Process
We recommend a combination of in-chair whitening and a home kit that allows you to maintain your results. The kits at the chemist have a lower concentration of whitening power. The ones you can purchase from a dentist are stronger and more likely to give your teeth dramatic changes.
We provide kits that will allow your teeth to maintain their whiteness long after your initial appointment. They're easy to use and comfortable to wear, completed in the comfort of your home. Our patients enjoy that they get the benefits of in-chair whitening combined with taking their touch-ups into their own hands.
The power of laser has transformed many procedures within modern dentistry. Now, advanced laser dentistry can be used within teeth whitening. We carry the AMD Picasso Dental Laser. With this laser, your procedure is made more effective and efficient. You can think of the laser as a complement to your teeth whitening process. It's safe to perform, and you'll love your brighter teeth!
You've likely noticed kits at the chemist that allow you to whiten your teeth at home. We don't encourage our patients to use these kits for several reasons. First, you are not being supervised by a professional. You may also notice that you have extremely sensitive teeth for a prolonged period afterward. When you have a kit, the strength of the solution hasn't been chosen for your particular situation. If your kit contains strips, they're often messy and difficult to handle. Kits with trays aren't custom-made for you and can be uncomfortable or result in less-than-optimal results.
With professional whitening, you can be sure that the proper solution is chosen for you and you'll be supervised during the entire procedure. We're also on hand to advise you on any questions or concerns you have before, during or after your teeth have been whitened.
Frequently Asked Questions
Do you use a blue light to accelerate the whitening?
We use the AMD Picasso Dental Laser. It's nothing like the blue lights you'll see in supermarket whitening stores. The whitening agent is first applied to your tooth. Applying the laser accelerates the chemical reaction that changes the top layer of your tooth. The result is a bigger change in colour and the results afterwards.
Does having your teeth whitened cause sensitive teeth?
Some people report having sensitive teeth after having their teeth whitened. Usually, the sensitivity is temporary and will abate after one or two days. If you find that your problems persist, we encourage you to contact us straightaway.
How can I maintain my results after having my teeth whitened?
There are many foods and drinks rich in colour that can stain your teeth. These include chocolate, curry, coffee, tea and red wine. Avoid these and you'll show off a brighter smile without having to complete a whitening procedure. Smoking is a tremendous contributor to staining your teeth. If you're interested in quitting, we'll provide you with some resources.
How long does teeth whitening last?
Your teeth will appear whiter for longer if you avoid the foods and drinks discussed above and refrain from smoking. It is difficult to say how long a typical case lasts since the results of whitening can vary from one person to the next. There are also various systems that may not work as well on the market today. We'll let you know what you can expect at your initial consultation.
Can I have my whitening touched up?
We provide you with a take-home kit every time that you have your teeth whitened in our office. It allows you to "touch up" your teeth when you notice that their bright colour is fading. When you have used all of your home kit's bleaching solution, just give us a call and we'll discuss whether you want to have in-office whitening done again or if you'd like to repurchase a take-home whitening kit.
Can anyone have their teeth whitened?
There are few contraindications for teeth whitening, so most people are candidates. There are, however, some exceptions to having your teeth whitened. For example, if you have decay present in your teeth, you must first address this problem before getting started with teeth whitening. Teeth whitening is only appropriate for adults and is never performed on children. If you needed a cleaning before your whitening, we can take care of that prior to treatment.
Will the teeth whitening procedure affect my fillings?
Teeth whitening works only on natural teeth. Restorations such as crowns, fillings or veneers will not be affected. If you require complex dental work, you'll want to complete your teeth whitening first. Then, we can choose the shade for your restoration that matches your newly-brightened teeth.
What is the cost for teeth whitening?
When it comes to teeth whitening, the costs vary depending on the results you wish to achieve. To get a more accurate number, schedule a consultation with us. An approximation is $300-$850 for in-chair whitening and a take-home kit for $20-$500. The fees vary depending on the whitening used and the results you wish to achieve.
Let's Refresh Your Smile
Our dental team will ensure that you love showing off your pearly whites. Contact us today to schedule your consultation for teeth whitening Artarmon! Short waiting times and free on-site parking will make your visit more convenient than you may have ever imagined.
* Any surgical or invasive procedure carries risks. Before proceeding, you should seek a second opinion from an appropriately qualified health practitioner.

Teeth Whitening Artarmon, Willoughby, Chatswood, Lane Cove, St Leonards NSW | (02) 9412 4232