Dental Veneers at Artarmon Dentists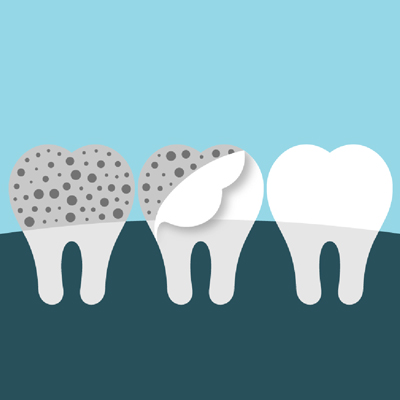 Have you thought about wanting to mask chips, stains, misshapen teeth and make a dazzling first impression with your smile? Veneers are a popular method in improving your appearance. They're made of a thin, porcelain shell that is designed to fit on the surface of your existing teeth. Though thin, they're durable, stain-resistant and will last for years with the proper care.
Composite Veneers Also Available
Though we normally fit our patients with porcelain veneers, you may also be interested in composite veneers. If you have a small blemish on a single tooth or want to have another procedure in the future, a composite veneer can be a quick and easy fix. They give a great aesthetic result but won't last for as long as porcelain veneers.
What to Expect
When you choose to get veneers, two appointments are required. At the first appointment, we'll prepare your teeth that are to receive the veneers. We'll take impressions that are used by our dental laboratory to create your veneers. At your second appointment, we'll fit your veneers, check that they fit perfectly, and then cement them into place. These visits are simple and most people report no discomfort involved.
Frequently Asked Questions
A small amount of your tooth enamel has to be removed for the veneer to fit properly. Typically, patients experience no pain. Our dentists are gentle and will make sure that you are comfortable.
How many appointments are necessary?
You'll need two appointments to get your veneers. At the first visit, we'll gather the information to create your veneers. At your second appointment, the veneers are fitted and cemented into place. Each will take about 45 minutes to an hour.
When you smile, only 6-8 teeth are visible. The number of veneers you want will depend on what you'd like to achieve. Some people desire a single veneer to cover a chipped or stained teeth. Other people want a full-mouth makeover.
The price of a veneer will depend on the individual tooth that is to get the veneer. It varies from $250 to $1800. If you have budgetary concerns, you may want to consider composite veneers. Though not as strong as porcelain, you might be able to have composite veneers on some teeth and porcelain on others.
Are there any alternatives to veneers?
If you have concerns about discoloured teeth, we can recommend our teeth whitening procedure. If you wish to correct the alignment of teeth, you may be interested in Invisalign®. Dental crowns can address individual teeth that have been damaged. We'll discuss all possible options when you come in for a consultation.
How long will my veneers last?
Generally, about half your veneers will need repair or replacement within ten years. Porcelain ones last longer than composite. With regular checkups, we can examine your veneers and make sure they aren't breaking down.
Schedule Your Consultation
Find out if you're a candidate for veneers Artarmon. Contact us today! We have Saturday appointments available.
CONTACT US
* Any surgical or invasive procedure carries risks. Before proceeding, you should seek a second opinion from an appropriately qualified health practitioner.

Dental Veneers Artarmon, Willoughby, Chatswood, Lane Cove, St Leonards NSW | (02) 9412 4232