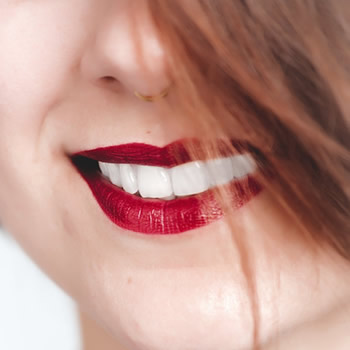 Would you like to sport a bright, sparkling smile? Maybe your teeth have become tarnished over the years. Substances such as coffee, tea, tobacco, red wine and certain medications can discolour your teeth. If your teeth have a lacklustre appearance, you may feel too self-conscious to smile.
Fortunately, you can erase stubborn stains and achieve a brighter, more youthful appearance with our teeth whitening solutions.
What Is Teeth Whitening?
Teeth whitening is a procedure that involves the removal of stains embedded in the surface of your teeth. It makes a chemical change in your teeth so that they reflect light differently, giving them a whiter appearance. At Artarmon Dentists, you can get professional-grade teeth whitening for dazzling results.
In our dental office, you'll be monitored the entire time to ensure your safety. You'll find that our whitening is highly effective, much more so than the kits you can buy at your local chemist.
Combining In-Chair & Take-Home for Best Results
We recommend a combination of in-chair whitening and a home kit that allows you to maintain your results. The kits at the chemist have a lower concentration of a whitening solution. The ones you can purchase from a dentist are stronger and more likely to give you the brighter results you're looking for.
The kits we provide at the practice will allow your teeth to maintain their whiteness long after your first appointment. Using the kits at home is easy and convenient. Plus, they're comfortable to wear.
Frequently Asked Questions
We use the AMD Picasso Dental Laser, which is nothing like the blue lights you'll see in supermarket whitening stalls. We first apply the whitening agent to your teeth. Next, we use the dental laser to accelerate the chemical reaction that changes the top layer of your tooth. As a result, you'll enjoy a dramatic change in colour afterwards.
Some people do report having sensitive teeth after having their teeth whitened. Typically, however, the sensitivity is temporary and will subside after a day or two.
It's best to avoid certain foods and drinks that stain teeth. These include chocolate, berries, curry, coffee, tea and red wine. If you avoid these, you'll enjoy that brighter smile for longer without having to complete additional whitening procedures. Tobacco use, particularly smoking, also can stain teeth. There's no better time than the present to quit smoking. Doing so, of course, can help you stay healthier. If you're interested in quitting, we can provide you with some resources.
Teeth whitening works only on natural teeth. Restorations such as crowns, fillings or veneers will not be affected.
It varies depending on the results you are seeking. An approximate cost is $300-$1000 for in-chair whitening and a take-home kit for $20-$600. To get a more accurate quote, schedule a consultation.
Yes; we feature Afterpay which allows you to get the whitening you want now and pay for it later.
Take that first step towards achieving a gleaming bright smile with our teeth whitening options.
* Any surgical or invasive procedure carries risks. Before proceeding, you should seek a second opinion from an appropriately qualified health practitioner.