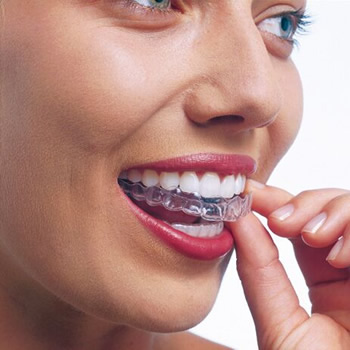 While a new addition to your wardrobe is a quick pick-me-up, a beautiful and straight smile is long-lasting. But not everyone is born with a perfectly aligned smile. If you have teeth that are crooked, gapped or crowded, you may hesitate to smile. At Artarmon Dentists, we understand how self-confidence can be negatively impacted by various teeth imperfections.
An Alternative to Traditional Orthodontics
While we offer conventional metal braces at our practice, you may want to straighten your smile discreetly. With Invisalign®, you can! The aligners used in Invisalign are crafted from a virtually transparent, smooth and comfortable plastic material. Every two weeks, you'll change out your aligners to the next in the series. Each set will gradually move your teeth in the direction they need to move. You can get a straight smile in just 12-24 months!
As the Invisalign aligners are removable, you can effortlessly clean each aligner and your teeth and gums. You can easily maintain your oral hygiene regimen of brushing and flossing, which reduces the risk of issues once treatment is completed.
Advantages of Invisalign
Practically invisible – With Invisalign, it's likely others won't notice you're wearing braces unless you tell them.
Comfortable – Because no brackets or wires are involved, you won't have to deal with possible irritation to your gums or the inside of your mouth.
Improved oral hygiene – As you can remove your aligners to clean your teeth, maintaining optimal oral health is easy.
Fewer appointments – In most cases, Invisalign requires fewer dental visits than other types of braces.
A before-and-after picture – You can look at each stage of the treatment process from start to finish before agreeing to proceed.
Frequently Asked Questions
Invisalign is an orthodontic system that takes an advanced approach to teeth straightening. Using SmartForce technology, the custom-made aligners are fabricated just for you. Our dentists are highly trained in Invisalign. Therefore, you can be confident your smile is in capable hands.
Invisalign is ideal for teens and adults.
First, we will evaluate you. If you agree to start treatment with Invisalign, your dentist will take X-rays, photos and scans of your teeth. Your records are used to make your 3D ClinCheck treatment plan. This system is then used to create your aligners.
You'll also be able to see the final position of your teeth. After your aligners are made, they'll be shipped to us and you can pick them up. You'll wear each set for about two weeks until treatment is completed. For optimal results, you need to wear each set for 20-22 hours a day. You only will remove them to eat, brush and floss.
The cost of treatment varies depending on the complexity of your case. We'll be able to provide you with a detailed list of your costs once we have evaluated your requirements for treatment. Typically, the cost of Invisalign begins at about $3000 and will depend on how many aligners you'll need. When you look at the costs and benefits, the ratio that Invisalign offers is the same or better than other orthodontic options.
Yes! We offer Afterpay which allows you to get Invisalign now and pay later with interest-free installments.
* Any surgical or invasive procedure carries risks. Before proceeding, you should seek a second opinion from an appropriately qualified health practitioner.