Caring for Baby Teeth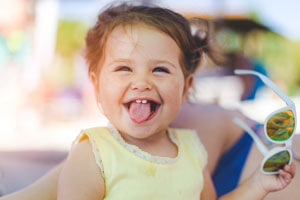 Good dental health for your baby can start even before that first tooth shows. A soft piece of cloth can be used to wipe down your baby's gums after feedings to be sure to wipe away bacteria.
As soon as that first tooth comes to the gum surface, use a soft toothbrush or soft cloth to brush the tooth with small, gentle, circular movements.
Give a bit more attention to where the tooth meets the gum, since it's easier for bacteria to get trapped in this area. Although your child's baby teeth will eventually fall out, it's important to care for them now because they set the stage for your baby's permanent, adult teeth.
Your child can have trouble speaking or chewing properly if their baby teeth aren't cared for.
And you're teaching them a great, healthy habit at a young age.
Finding the Right Dentist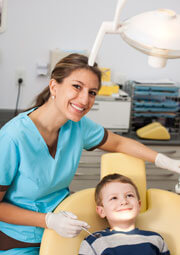 Has a friend or loved one asked you for a referral to a good dentist? Here are a few questions you should urge them to ask when making this crucial decision.
1. What is the dentist's education and training?
2. How long is the wait for an appointment?
3. Is the most up-to-date equipment used?
4. How does the dentist keep current with new techniques in dentistry?
5. Is the dentist available after-hours in case of an emergency?
6. What kind of payment is accepted?
7. Does your insurance provide coverage? Are payment plans available?
8. What do other patients think of the dentist? Read the online reviews to see what other patients have experienced.
By the way, we're ready to answer these and other questions that new patients have. We hope you'll direct your friends and family our way! They'll be in good hands.